Today I am participating in
Mama M.'s
Five Question Friday for the first time. Head on over to
Five Crooked Halos
to read more responses to 5QF, then join in yourself!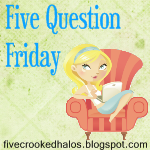 Have you ever had a celeb sighting?
When I was a senior in high school, Kenny Chesney came into the department store where a friend and I were working as fragrance models for the weekend. He had on sunglasses, a hat, sweatshirt, and gym shorts. In other words, we didn't recognize him; even though we were going to his concert that night. Oops. He came up to the counter with his little entourage, which just looked like a group of average guys. We were telling them about the fragrance, of course they were flirting a bit: typical charmers. =) All we cared about was selling the stuff, so we flirted back then offered them some samples. When I asked about how many they needed, one of them responded, "Counting the band and crew, probably about 13." I was bent over getting the samples out of the drawer, and my friend was tapping me and nudging me with her knee whispering, "That's Kenny Chesney. That's Kenny Chesney!" Sure was and we didn't have a camera to prove it to everyone else that was going with us that night. So what do we do: literally run down to the Target and buy one - but wait! As we were leaving to do that, one of the regular saleswomen told us that she probably had what we needed. She pulled out a Tommy Hilfiger disposable camera from an old men's fragrance gift set underneath her register. When they came back through on their way out, we asked if we could get some pictures with them, and of course, they obliged. We all headed outside and took photos in front of the shrubbery - the camera didn't have a flash. By the way, Kenny came up to my shoulder: it was Bethany and her pet Kenny.
At what temperature do you keep your house?
It definitely varies. Before I was on Prednisone, I was pregnant. Interpretation: it's been quite chilly in here for about a year. My body temperature is way higher on the Prednisone than when I was preggers. Even in this 40 degree weather, it was still around 65 in here.

Funny story - well, it's funny now, barely - but it wasn't then. The first night that I moved back up to the Transplant Unit from ICU after surgery, they started the iv steroids. I had severe shakes and the hot flashes of a lifetime. I felt like I was on fire and started to panic because I couldn't breath. Enter SuperNurse! Dace had been my nurse on and off throughout my two month stay, and he was my nurse that night. He found a high-powered tabletop fan and sat it on my food table/tray and aimed it right on me. Then, he went and filled up some Ziplocs with ice and put them in the palms of my hands, and that's how I slept. Did I ever get cold? Nope. At the time, I probably would have been annoyed, but now I wish I had a picture of how "rigged-up" I looked that night. I felt like a human sacrifice. Knowing that I couldn't get up and run if I to, freaked me out as well. I know, but it's crazy the stuff you think about when you spend that much time in a bed. That would have been hilasterous: me...scooting down the hall for more ice...3 stomach tubes, 2 sets of pacing wires, a catheter box-thing (TMI, I know), and a dangling PICC line, in tow.
Do you notice dust at other peoples' homes?
Rarely, it would have to be really bad. I am the one with the dust problem: it's a daily battle that I cannot figure out, especially without any pets inside anymore.
What's the worst job you ever had?
Honestly, I can say that I have never had a bad job. The most boring had to be when I worked as a trade-out a gym three hours a week: longest three hours of my life.
What is your most sentimental possession?
Oh my, this is very difficult. I keep everything that is even slightly tied to a memory. I have several sentimental items, but probably now the most precious is the locket Zac gave me for my birthday when I was in New Orleans. Read about it

here

.