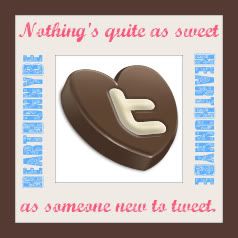 In honor of #yotweeps today I am not writing too much, but but posting video evidence that spring is here. I took this video yesterday after I discovered that the biggest quacker had snuck in the back door while I went out the front door to get the mail. Yes, I had the back door open, but since when does a big nasty duck think he can come in and eat my kid's leftovers off of his exisaucer? ...hey wait...maybe I shouldn't have chased him out so fast...ha! Anyquack, I started cracking up as I chased him out, and he was rapidly running in place on the ceramic tile. They have become so domesticated that simply stomping your foot and yelling won't do; I nearly had to punt him between the double doors! Just kidding...sort off...as a whole - the flock has turned my back porch into a poopy
Pollock
. I first talked about this pile of poo here. Anyduckling, my anger was deterred by this sight:
*~*Attention All Tweeps*~*
To play along and increase your twitter twaffic, just follow the steps below!
1. Follow me on twitter . Click on my twitter Icon at the
2. Shout me a hello on twitter. #yotweeps Then I'll know you followed and I'll reciprocate.

Want more tweeps?
3. Grab the YO Tweeps Button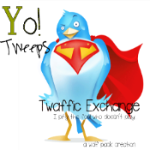 4.. Place it on your blog.
This helps to BRAND the Exchange so that it is recognizable.
5.
Put a twitter icon / link on your blog post AND on your sidebar, like I did.
6. Link that post up below.
7. Visit some other YO Tweeps linkers on the list and follow their blogs if you find their stuff fun and interesting!
8. Sign into your twitter account and follow them. Tweet them using the example below so they know you're following!
Example: @hearthunnybe #yotweeps I'm following!
9. If someone follows you, reciprocate. It's that easy.
Be sure to grab the button above and encourage your readers to grab it as well, this way we all get more people following and more people to follow!