We interrupt this regularly scheduled program for a Blogfia announcement...
Channeling
Princess of Sarcasm
:
One of our blog friends is going through a really hard time. Her son has been the victim of bullying. She spent the night in the ER. I am outraged and I'm sure you will be too when you see the pics of her baby with his busted up face.
Go here and show Jane some love
. She is a single mother who is very involved in Autism awareness and loves all her children dearly. She does so much for others. Let's do something for her.
If you feel so inclined...post her link on your blog and send your peeps over to show her some love today too. Tell her the Blogfia sent you.
Grab the Blogfia button code and post away. Feel free to copy this post if you don't have time.
But copy only this post. If you copy my other original content I will hunt you down and give you multiple paper cuts...
Let her know that we all stand behind her in protest of bullying!!
After you go give Jane some comment love, you may return to your regularly scheduled program with the
YoTweeps
post below.
*~*Attention All Tweeps*~*
To play along and increase your twitter twaffic, just follow the steps below!
1. Follow me on twitter . Click on my twitter Icon at the bottom.
2. Shout me a hello on twitter. #yotweeps Then I'll know you followed and I'll reciprocate.
3. Grab the YO Tweeps Button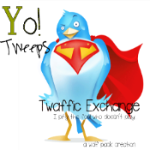 4. Place it on your blog.
This helps to BRAND the Exchange so that it is recognizable.

5.
Put a twitter icon / link on your blog post AND on your sidebar, like I did.
6. Visit some other YO Tweeps linkers on the list and follow their blogs if you find their stuff fun and interesting!
7. Sign into your twitter account and follow them. Tweet them using the example below so they know you're following!
Example: @hearthunnybe #yotweeps I'm following!
8. If someone follows you, reciprocate. It's that easy.

Be sure to grab the button above and encourage your readers to grab it as well, this way we all get more people following and more people to follow!