Being that Supah's breakfast, lunch, and dinner plates are all full; YO TWEEPS is happening here this week. I noticed many of you looking for it last week and figured it would happen again because, well, there's no such thing as too many followers. Am I right?!
If you're a first-timer, welcome! There are directions below for you, even how to make your own follow button.
If your a regular, you know what to do.
This is all about following and meeting some new twitter friends.
Image courtesy of
Wolverine on August 20, 2009 by Dave Mott
For all you newbies here's what YO TWEEPS is all about:
Fun & increasing your Twitter Twaffic!
1. MAKE A *NEW* BLOG POST & CUSTOM BUTTON like I did here.
2. COPY and PASTE these directions & button into it. The code is below with the hunky button. ;)
3. LINK-UP your post with the linky below.
4. FOLLOW the first
FIVE
Twitter Twaffic hosts listed on the linky! Follow them on twitter.
5. YELL out to them
#yotweeps "I'm following."
They'll reciprocate your love on twitter when they can.
6. On Twitter check out all of the Yotweep-ers. Here's a shortcut:
#yotweeps
:
follow who you want!
7. When you follow someone make sure to mention them in a msg like this:
@hearthunnybe I'm following! #yotweeps
This way all of the #yotweep (s) will show up and you get more exposure.
8. If someone follows you, be sure to reciprocate with a msg like this:
@yourtwittername Backatcha! #yotweeps
9. Hit me up if you have any questions.
Strike up some friendships!
Show 'em some blog love too if you would like!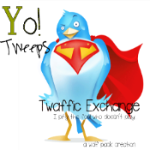 Enjoy!