Another Crazy Five Question Friday


1. Did you have a favorite blanket or toy as a kid? If so, do you still have it?
This is a pretty embarrassing story. I had a nice fluffy eyelet baby blanket that was barely ever used. I remember just draping it over the corner of my bed. When I got toward the end of high school or starting college I began sleeping with it because it would roll up perfectly into whatever I needed it to be at home or traveling. Eventually, it got to where I couldn't sleep without it.
On a beach trip to Destin my last semester of college in 2007 I went with some friends to a corporate party. When we left the next day and were about 20 minutes down the road I realized that I had left it.

Since the rooms were in a friend's name I had to give them the last name Carter and since my friend other friend Chrissy made the call to housekeeping, I had to go to the concierge and pick up a children's blanket for "Chrissy Carter." When the manager brought it to me he said, "I hope the little one wasn't too upset." I simply replied, "Oh, she'll be ok now."
Interestingly enough one of the guys that went with us that weekend was a friend of my husband's (whom I hadn't yet met), so when we began dating a month or so later…guess what the first story he heard about me was? He should've known then… =)
Thought I would throw a pic in from that trip.
Ironically, a year and a half later I was back at the same resort for a writing conference when I left it AGAIN. I wasn't so lucky that time, and I haven't seen it since. It was probably for the best since I was 23 at the time.
2. Do you dream in color?
Yes, I do. About 80% of the time I know that I am dreaming, as well, so if I think something is going to be painful I usually wake myself up; and about 20% of the time I do not want them to end, especially the ones when I am in a tropical or resort-like location, which isn't that rare.
3. How tall are you? Do you wish you were shorter or taller?
I am 5'11. I DO NOT wish I were taller, nor have I ever. I have been the "tallest" since kindergarten. Not only was I always the tallest at school, I was always the youngest because I have a September birthday. This did not stop me from wearing 3 in. heels when I first started teaching either.
Some of my wonderful juniors with me in 2007.
When I was younger it sucked, but when I got into college and would go out, it was always "Who's your tall friend?" or as I was apparently referred to by the boys where I taught "Amazon Warrior Princess." Hmm, yeah. A junior boy whom I had previously taught waited at my classroom door every morning for the month before the sweetheart dance, expecting me to say yes as his date. Seriously?! Thank you, Deborah LaFave for making that appear attainable. Later on in the year I heard that this student told an entire class, "I would like to climb her like a mountain. " Let's just say that it came in handy that my husband, then boyfriend, was their football coach. =)
4. If you could have anyone's (celeb or other) voice as the guide on your GPS, who would it be?
Oh my, this is tough, and I am the one who sent it in to Mama M.! I love Jenna Lamia's voice; she read the part of Skeeter on the audio recording of The Help. I know that there is another voice that I cannot think of! Ugh!
5. Do you return your shopping cart to the corral or leave it wherever in the parking lot?
I pretty much always return it. When I do not it's because it is dark, late, and not very smart to walk all the way across the parking lot by myself. I actually did this last night because I had to go to the generally weird, creepy Wal-Mart at 10:30 p.m.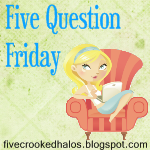 P.S. I posted a sort of Clif's Notes on the 31 Days to a Better Blog Challenge Day 6 with SITS yesterday, if you want some

tips for a better blog

.