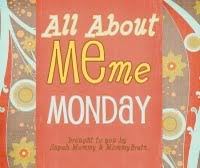 Today's meme prompt is about your favorite quote and why. Of course, if you know me you know two things that rock my socks off: words and music. Sometimes the combination of both is almost too much for me to handle, so I just picked my most recent discovery. A lifetime of loving the written word and being an English teacher keeps me constantly discovering new favorites.
The clock of life is wound but once
and no man has the power
to tell just when the hands will stop
at late or early hour.
To lose one's wealth is sad indeed,
to lose one's health is more.
To lose one's soul is such a loss that no one can restore.




I discovered this printed on a little yellow card in the lab Ochsner when I was having blood drawn a few months ago. The nurse told me a patient had given it to her. I felt like it was speaking to me: that quote I had been searching for since my experience.
Upon reading it, I flashed back to those first few seemingly hopeless weeks in September when I was thinking: "This is crazy. I am only 24! I have never smoked, and I only drink on special occasions. There are people who drink everyday and smoke like chimneys for longer than I have been alive that barely have a cough!" I thought, "I just want to walk through my back door, across my back porch, and through my back door." Then I remember with almost complete certainty knowing that would never happen, that I would never go home again, never scoop Finn up again (at the time he was only six weeks old), never see the gulf again, never feel the sand again, never sit on the swing with my husband again. I remember thinking: he is going to have to raise this little boy on his own. He is going to have to answer questions about where Finn's mom is or if Finn's mom is coming, then worst of all knowing that Finn would never even remember me at all. Would Zac change Finn's name to Levon? ;) -That's what he so desperately wanted to name him - after
Levon Helm
of The Band.
If I have learned anything through my experience, it is to LIVE. I was already dead. I was doing things I didn't want to do, and not saying things I wanted to say - my hubs thinks it is the pain meds that makes me "talk like a man," but really I feel like I have lost that filter. Maybe they took it out with my heart thinking that it would prevent so much stress on my new heart. I could talk on and on about the significance of these words, but the truth is if they are going to speak to you they have already done so.
I do not want to leave this entry without honoring an angel who left us entirely too early, who truly lived life the way it was meant to be lived, who gave her all in everything she did, and loved her family with every fiber of her being and showed it every chance she got: the vivacious woman of faith and character that I strive to be. -In loving memory of a dear family friend lost three years ago.